Home > Turkey > Istanbul Mosques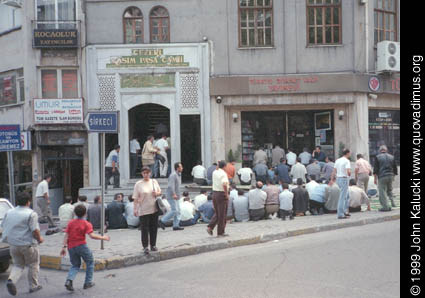 Most practicing Muslims answer the daytime calls to prayer at considerably more modest and conveniently located mosques. The faithful at this mosque, in a busy commercial area of the Sultanahmet, overflowed onto the street on a Friday afternoon.

Once the call goes out on a busy weekday, watch where you stand. Men will drop what they are doing and come running from all directions.

A few more pictures of mosques in Istanbul.
My Favorite 20 Images of Turkey
More Istanbul: Aya Sophia Notable Mosques Monuments Topkapi Palace Bosphorus and Golden Horn
Photographs of notable mosques in Istanbul, Turkey. mosques, tomb eyup ensari, ayoub, eŁyp, sultan suleyman magnificent, suleymaniye camii, blue mosque, sultan ahmet camii, camii, turkey, islam, photographs, pictures, travel, tourism