Home > Turkey > Istanbul Monuments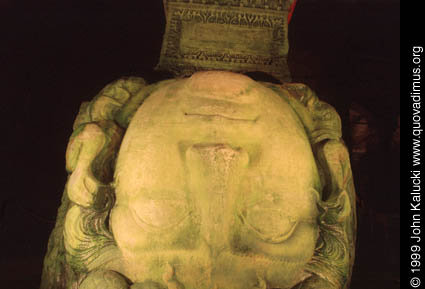 Another column base in Yerebatan Saray.

There are a number of other cisterns in the area, including a romantic restaurant called, strangely enough, the Cistern Restaurant (Taverna Restaurant Sarnic). The restaurant is at the north end of Sogukcesme Sokak (Street of the Cold Fountain).
My Favorite 20 Images of Turkey
More Istanbul: Aya Sophia Notable Mosques Monuments Topkapi Palace Bosphorus and Golden Horn
Photographs of the monuments of Istanbul, Turkey. istanbul, cemberlitas, banded stone column, burnt column, yerebatan saray, basilica cistern, obelisk of theodosius, palace of ibrahim pasa, turkey, islam, byzantine empire, ottoman empire, photographs, pictures, travel, tourism